Chris Brown
ON A Prison Music Program That Offers Hope
April 8, 2019
On Monday, April 8th, Chris Brown presented an inspirational talk to our members about a music program that he founded called Pros and Cons. Chris works with inmates (men and women) in prison to provide job skills and create opportunities for empathy and achievement for prisoners. 'By singing, recording, songwriting, playing instruments and being part of a musical project the prisoners "were completely unencumbered by this dominant identity of criminal. Now, they were seeing what else is possible," says Brown.' One of the highlights of the evening was discovering that our Susan Freeman had taught Chris in high school.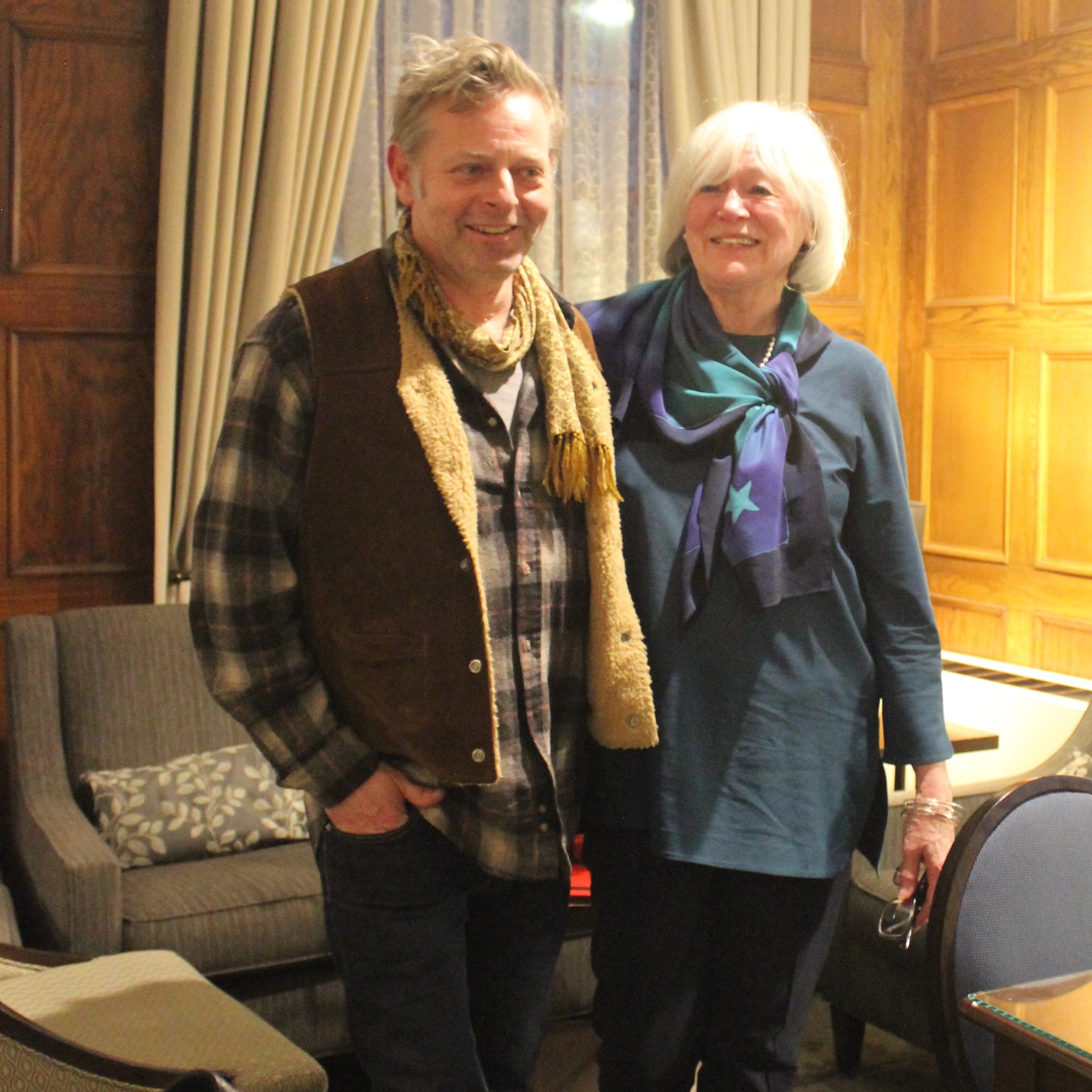 Saloma Smith
ON Teaching the Poor in Pakistan
April 2, 2019
Saloma Smith gave us a most interesting and informative talk on teaching in Pakistan. Saloma was a Toronto teacher who took early retirement in order to go to Pakistan to work in rural schools where she taught as a volunteer for over thirty years.
After her presentation, she sold several copies of her autobiography, "Out of the Schwemnly". A schwemnly is a cedar grove and the house in which she grew up in Ontario Mennonite country was located in a cedar grove. The proceeds from the sale of her book and the honorarium Saloma received will go to help pay for an operation for Chumna. Chumna is a sixteen year old Pakistani girl. She was born with a club foot and could not work in the fields with the other women so she was sent to school. She now teaches the women in the village. Chumna has had two operations on her foot and needs a third one.
Saloma thanks the UWC members for their hospitality when she spoke to us.
INTERNATIONAL WOMEN'S DAY LUNCHEON
The luncheon, held in the beautiful Wedgwood Ballroom, was a resounding success. Paula Barber and her committee organized a lovely luncheon for all of the Toronto area CFUW clubs to celebrate this important occasion. Deborah Maw was MC of the event and had great assistance from the representatives of the other clubs. The speaker, Dr. Aileen Burford Mason, spoke very convincingly about the importance of good nutrition for healthy aging and the healthy brain. We will all be watching our intake of good foods, equal protein for each meal and supplements such as Omega 3, Vitamins D3, B12, C and minerals such as Magnesium. It was interesting and very informative.
A picture is worth a thousand words and Jo-Lynne has a great selection so that you can share the warm atmosphere and great camaraderie.
Jessica Johnson
ON From Nellie Bly to #MeToo
February 11, 2019
On Monday, February 11, the Executive Editor and Creative Director of The Walrus magazine, Jessica Johnson, gave an inspiring talk about her career journey. To an excellent turnout of our members and guests, she talked about managing her way through a male-dominated workplace to becoming The Walrus magazine's first woman editor. Since then, readership has increased 17% which is almost unheard of in the magazine industry today. She has had female mentors who have encouraged her along the way and now she, in turn, is facilitating groups of women to meet and share their hopes and interests. Check out The Walrus to provoke new thinking and to spark conversation on matters vital to Canadians. www.thewalrus.ca
David Newland
ON The Northwest Passage: Tracing One Warm Line
January 14, 2019
On Monday, January 14, 2019, UWC members and guests were treated to a fascinating journey along Canada's Northwest Passage via pictures, videos and stories from David Newland, a musician and Arctic expedition cruise host. According to David, "Northern-ness is a real thing but it calls us to engage with it. Canadians need to learn about the Arctic and Inuit Culture before they identify as northern people." For information about an Arctic excursion visit adventurecanada.com
David Garzon
ON Draw-the-Line Initiative
November 12, 2018
There was an excellent turnout of members and guests from the UWC and the Faculty Club on Monday, November 12th to hear David Garzon of the White Ribbon Organization. He outlined the methodology White Ribbon uses to include men and boys in Gender-Based Violence Prevention. The white lapel ribbon is recognized as a pledge to never commit, condone or remain silent about violence against women. For more information about this excellent program visit www.whiteribbon.ca
Patricia O'Connell and Madelyn Gold
on Sistering – Supporting Toronto's Most Marginalized Women
October 15, 2018
Patricia O'Connell, Executive Director of Sistering, and her colleague Madelyn Gold made a very powerful presentation to the Club about the value of Sistering, a safe place where women are welcome, day or night. Women who experience homelessness or precarious housing, trauma, or social isolation are provided with meals, counselling, employment support, health care and shelter from violence and abuse.
Madelyn spoke movingly about her personal experience with addiction. She credits Sistering for giving her the opportunity to become a Peer Harm Reduction Worker and for saving her from a life on the streets.
Patricia and Madelyn spoke passionately about vital work that Sistering does, while reminding us that the agency depends heavily on the generosity of donors and the ongoing dedication and commitment of volunteers. For those wishing to make a gift to Sistering, please visit sistering.org/donate or visit their website at www.sistering.org
Dr. Ann Cavoukian
ON Protect Your Privacy Before It's Taken Away
September 10, 2018
There was an excellent turnout of members and guests from the UWC and the Faculty Club on to hear Dr. Ann Cavoukian speak about Protect Your Privacy Before It's Taken Away. She outlined a privacy framework called Privacy by Design that will enable our privacy and freedom to live well into the future.
Doug Purdon ON Art Forgery
January 22, 2018
Many of us gathered on January 22nd to hear Doug Purdon's anticipated informative and thorough introduction to the world of "art forgery." He exceeded our expectations. Organized in a lightly humoured format of "what it takes to be an art forger," Professor Purdon explained the challenging chemistry and techniques, and the improving technology for fraud detection. To put a human face on this effort, he introduced biographical facts of notable forgers, each with unique career paths. He offered us a real "tour de force."
Sue & Jim Waddington
ON The Group of Seven and Tom Thomson
February 26, 2018
It's not often one couple's vacation slideshow is of interest to anyone other than the couple in question, but Jim and Sue Waddingon haven't had your average vacations. For 40 years, primarily by canoe, they have been locating, documenting and photographing the actual landscapes that inspired and influenced the brushes of the famous seven artists. It was very interesting to see the actual paintings and the Waddingtons' photographs side by side. Most sites had changed very little over time. One of the slides that Jim presented showed six of the Group of Seven and another man who was none other than Barker Fairley of whom our Fairley Room is named. "In the Footsteps of the Group of Seven" was about as close a two-dimensional experience can get to the live version of the same thing.
Philip Holst
ON Partnering with Nature for Water Management Solutions
April 16, 2018
Philip Holst, a Wetland Rehabilitation Initiator and Project Manager, gave a very informative talk on how important wetlands are to the health of our water. He described wetlands as being the kidneys of our water system; they help to purify waste and standing water. As a result, wetlands are needed not just in rural areas but in urban life as well. As Philip says, "We do not own the land but we are stewards of it." When you get a chance, check out the wetlands in Toronto such as at the Leslie Spit.
Dr. Meb Rashid
ON Delivering Health Care to Refugees Through Relationship Building
May 14, 2018
All who attended Dr. Meb Rashid's presentation were enriched by his description of the care-giving work at Crossroads Clinic, as well as his observations on the phenomenon of refugees to Canada in the past decade. With a mix of data and anecdote, he provided a sophisticated view of the profiles of recent refugees and the realities of their experiences, prompting a better understanding of how this contributes to their determination to settle well into Canadian life, no matter what it took to flee their homes.
The Honourable Elizabeth Dowdeswell
on Ontario's role in promoting sustainability, economic prosperity and social and cultural inclusion
Tuesday May 29, 2018
The main dining was full to capacity as Ontario's Lieutenant Governor articulately outlined her key priorities, interspersing them with touching real life stories. With the same ease, she answered our numerous questions, impressing us with her breadth of knowledge on diverse topics. Harolyn warmly thanked her on our behalf.
Adina Lebo ON Key Issues of Aging
June 1, 2018
There was a good turn out on a beautiful June evening to hear Adina Lebo's statistics-packed presentation regarding the phenomena we all should be aware of as "Boomers"/Zoomers Informative.
Upbeat when appropriate, provocative when necessary – all of this was delivered to an appreciative audience in the space of an hour following dinner.
LUNCHEON SPEAKER - Dr. Elizabeth Smyth
Date: Monday January 23, 2017
Time: 12:00 noon
Dr. Elizabeth Smyth is a Professor of Curriculum Teaching and Learning and Vice-Dean at the School of Graduate Studies, University of Toronto. Dr. Smyth, will speak about her most recent book Changing Habits: Women's Religious Orders in Canada. Her talk was warmly received and sparked numerous questions and a lively discussion afterwards.
DINNER SPEAKER - Dr. Charlie Keil
Monday February 6, 2017
Dr. Charlie Keil, professor of Cinema Studies and Principal of Innis College is a lecturer with a specialty in American film, and interests in directors as authors, documentaries and the stars. Dr. Keil will speak about film and all that it entails, preparing us for the hectic awards season. It was a fascinating talk, giving insights into the origins of contemporary cinema, what makes a great film, a great director and an award winner.
LUNCHEON SPEAKER - Paola Gomez
Wednesday March 8, 2017
Paola Gomez kindly and quickly stepped in as guest speaker at the International Women's Day Luncheon, when Jodie-Lynn Waddilove had to attend to urgent family matters. A human rights lawyer from Colombia, and refugee herself, Paola's compelling personal story and passion for women's rights, moved and inspired the audience of approximately 120 members of the University Women's Clubs of the Greater Toronto area.
DINNER SPEAKER - Michele Bomberry
Monday April 24, 2017
Michelle Bomberry, a member of the Six Nations of the Grand River Territory and Director of Post-Secondary Education at Indspire, gave a lively informative presentation about the valuable work being done by Indspire in support of indigenous people. Our contribution of $4,500 is being matched by the Government of Canada.
DINNER SPEAKER - Dr. Marcel Danesi
Topic: Puzzles and the Aging Brain
Monday May 15, 2017
Dr. Danesi is a Professor of Semiotics and Anthropology at the University of Toronto. In the area of puzzles, he has written various academic and research-based books. He also writes puzzles for the Toronto Star, Reader's Digest, and a puzzle blog for Psychology Today. He has also written several bestselling puzzle books for Harlequin, of which The Total Brain Workout is deemed one of the best puzzle books on the market. Dr. Danesi challenged and entertained us with a fascinating talk about puzzles and the aging brain. Combined with fine dining, it was a well attended "food for thought" evening.
LUNCHEON SPEAKER - Donna Jean Mackinnon
Topic: Newsgirls: Gutsy Pioneers in Pre-Feminist Times
Monday June 12, 2017
Donna Jean MacKinnon's new book Newsgirls: Gutsy Pioneers in Canada's Newsrooms brought our focus back to a time when women journalists were carving out a place in a male dominated profession. With excellent visuals illustrating the ten ground breaking female reporters as well as the fashion of the time, Donna Jean MacKinnon, a former reporter for the Toronto Star, not only helped us vicariously relive 1930 – 1960 but also made many of us reflect upon our own careers and the battles that we fought as women entering a profession or that others fought before us to make our transition possible.
DINNER SPEAKER - Dr. Adam Chapnick

Topic: Multiculturalism
Monday November 6, 2017
Dr. Adam Chapnick, professor, author and foreign policy expert, captivated the audience with his lively, informative talk about multiculturalism in Canada, comparing it to other countries. His presentation, and his responses to the numerous questions afterwards, revealed an in depth knowledge of multiculturalism and its impact on the world. A thought provoking presentation about a timely topic.
DINNER SPEAKER- Dr. Ellen Bialystok

Monday October 17, 2016
Dr. Ellen Bialystok is a distinguished Research Professor of Psychology at York University, Member of the Order of Canada. Much of her research has focused on the effect of bilingualism on children's language and cognitive development. This research has also recently encompassed investigations into language and cognitive decline with aging. Ellen's well-researched facts and insightful comments were well received by all. See photos below.
LUNCHEON SPEAKER- Grace Morrison

Monday November 21, 2016
Grace Morrison, an educator, author, actress and musician, specializes in recounting the stories of early, well-known French Canadians of the 17th and 18th centuries through story telling, drama and music. It was an entertaining, engaging, educational event that was well attended and thoroughly enjoyed by all. See photos below.